ABOUT US
About the company: Registered in England & Wales during 2013 under certificate of incorporation number 8432790, UK Golf Holidays is the latest in the series of award winning golf tour operation enterprises from the owners of Wales Golf Holidays and Play & Stay UK Golf Breaks

About our background and our credentials: Our Shareholders and Directors have been involved with golf tour operation since the inauguration of the first of the associated companies in 1991. With our 25th anniversary looming what better way to develop our business than launching UK Golf Holidays which will be a UK market leader in bespoke (and play & stay) golf breaks throughout mainland UK
We are a member and industry partner of The International Association of Golf Tour Operators (IAGTO), the global golf tourism trade association. UK Golf Holidays complies with their charter standards on service provision and financial security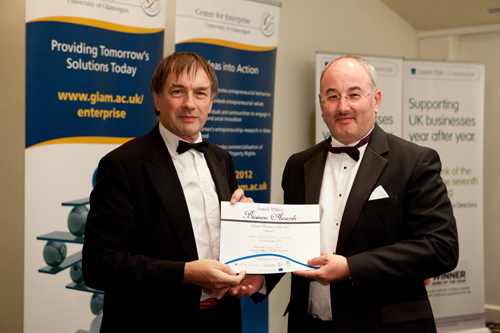 Ian Richardson (right) receiving 'Retail Business of the Year' Award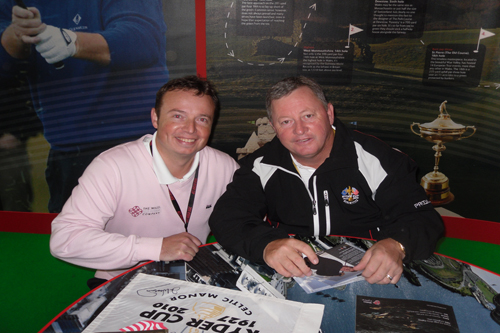 Photo Mark with Ian Woosnam at The Ryder Cup at Celtic Manor in 2010


About our team:
Richard Edwards:
An avid golfer of unfulfilled potential with work duties contributing to his handicap rise from 3 to 6 in the years following his transition from university to paid employment!
Mark Pearce:
Can be heard to talk a good game though is often capable of letting his game do the talking. A handicap reduction would naturally follow if work did not get in the way of walking the fairways
Ian Richardson:
An old duffer who often reflects "the older I get, the better I was". Ian hangs on to category 1 status by his fingernails and wants to regain his County Seniors team place if he is given more time to tee it up!
Nicola Richardson:
Once upon a time a more than useful lady golfer and 3 times past Ladies Club Champion, grandmother duties have meant that Nicola is now a potentially dangerous category 2 bandit and useful mixed greensome foursome partner
Brian Rigby:
Youthful in appearance but cruising to senior status. Known as Mr X being an ex-plus handicap golfer, an ex-Club Captain and an ex-Secretary Manager. Brian presently plays off a scratch handicap and looks the real deal when walking on to the 1st tee!